'Braided Streets'- my proposal for how to organize traffic in SF
'Braided Streets'- my proposal for how to organize traffic in SF
The fight over what our streets look like is perpetual in this city. Bicyclists love Valencia and Folsom, and want other streets to be just like them. Car-owners and taxis love Franklin, South Van Ness, Guerrero, etc. Transit (aka buses and streetcars) does well on Mission, Market, and Haight, amongst others. Pedestrians seem to like the streets that are optimized for bikes and transit.
It seems that there is a showdown brewing between the newly powerful bike coalition, the Muni supporters, and people who drive, as more and more streets get sharrows or a bike lane. However, I think we can avoid some of the strife by acknowledging that the three types of vehicles (bikes, transit, and cars) simply shouldn't coexist on many streets- or at least, I don't think there is a configuration that makes all parties happy. If optimized for bikes, cars and transit are slow, if optimized for cars, bikes and pedestrians are in danger, if optimized for transit bikes are in danger and both cars and bikes are slow.
Instead, we should have a 'braided street' model, where we alternate which streets are optimized for which modes of transit. We already partially have that model in the Mission, and I think it does pretty well. Going from west to east:
| | |
| --- | --- |
| Street | Optimized For |
| Sanchez | Bikes |
| Church | Transit |
| Dolores | Cars and Bikes? Perhaps Pedestrians |
| Guerrero | Cars |
| Valencia | Bikes |
| Mission | Transit |
| South Van Ness | Cars |
| Folsom | Bikes and Transit |
It's not strict (and doesn't need to be) but this division helps keep everyone happy- it's not too far from a street which is optimized for how you want to travel. If you're a bike on Guerrero going a long distance, hopping over to Valencia is worthwhile so you don't need to advocate for a bike lane on Guerrero. Here's a map which overlays how the north-south streets in the Mission are currently 'organized':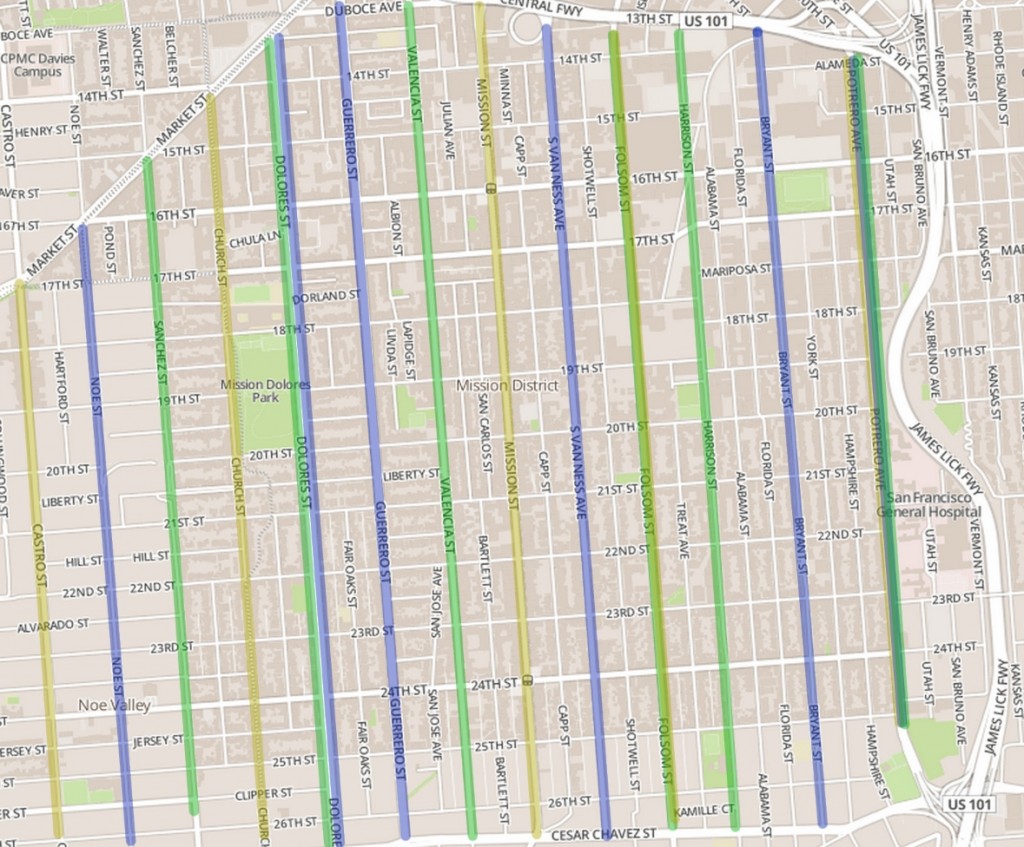 Blue is car-optimized, Green is bike-optimized, Yellow is Transit-optimized
Note that Portrero is all three, due to it being the last street before the highway.
East-west is a little less clear, possibly due to the distance not being as great- the self-selecting into different streets is not as prevalent when there is not as far to go. Also the cross streets have to interact with the light timings for the more important north-south streets.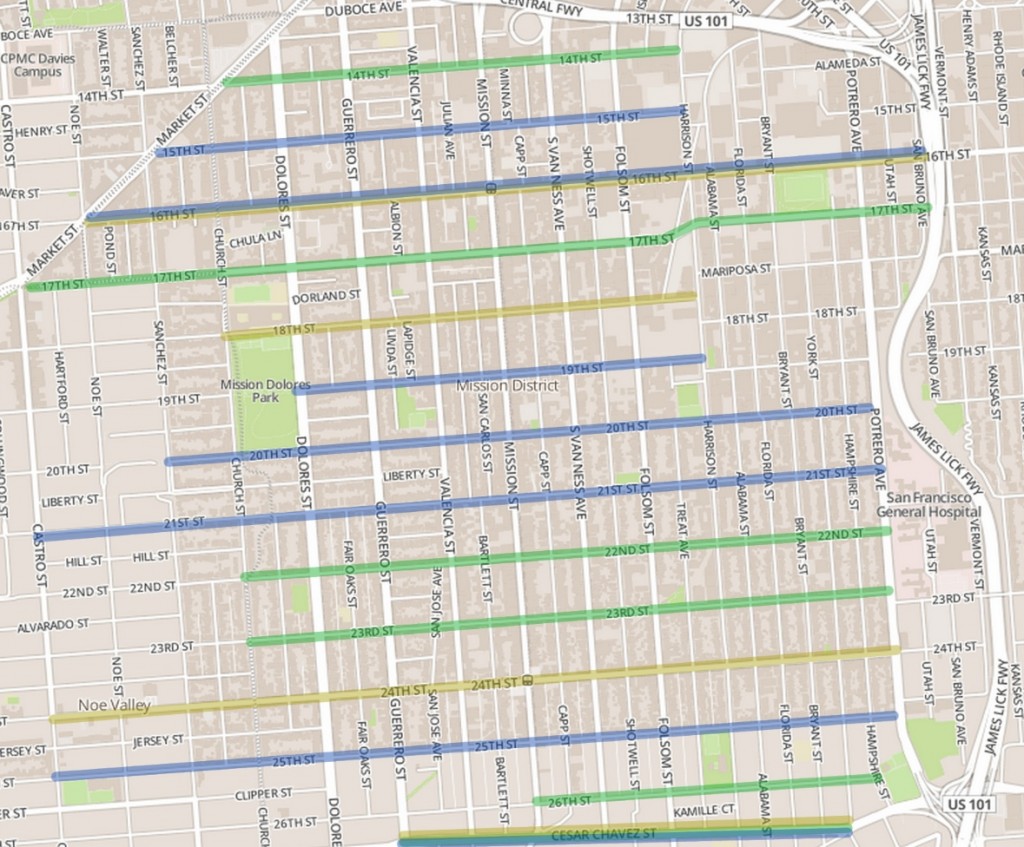 Again, Blue is car-optimized, Green is bike-optimized, Yellow is Transit-optimized
Cesar Chavez is all three (although in truth less bike-friendly than I'd like) and 16th is good for both cars and transit.
I think that a more explicit understanding of this model (a model which we already are heading for as a city) could help ease some of the noise and conflict. Cyclists would realize that not all streets need to be calmed (even though calming would help out the noise for my own apartment on Guerrero, I still think Guerrero should remain optimized for cars), and cars would get over the superiority complex that they own the streets and would realize that they are guests on the non-car-optimized streets.
Thoughts? A better name for the model, perhaps?